Your support always means alot to me, I am trying to make my site a little more original and exciting for you guys as I know there's so many of us bloggers out there that it's inevitable we end up looking similar. I feel at the moment I'm not entirely settled. None of my accounts are linked so I have to post on twitter and facebook manually which takes up extra time I don't really have. I spend on average around 40+ hours a week on my blog and YouTube and I'm not earning a salary so it shows how dedicated I am.
At the moment I can't work until my son is allocated more hours at nursery, he goes 2 days a week which is great for him as he has really came on leaps and bounds but unfortunately they cant offer me any more days right now and for some reason nursery's up here have big waiting lists. I refuse to put him in private nursery so I waited on a list for 3 months just for those 2 days, madness!
I'm lucky to have an understanding partner who really pushed me into all of this and doesn't mind taking a back seat while I sit for hours typing away.
Since the age of 16 I have always had a job, at one stage 3 at once. I come from a working class background with a strong sense of work ethic ,even when I was at college studying I worked. So when I moved to Scotland and had my child it was so frustrating unemployed. I spent some months working at Miss Sixty when I was pregnant but the store went into admission (or something like that) and no one would employ me being pregnant.
It was hard being a first time mum and having no family or friends around me up in Scotland (I did make 2 lovely friends) but some how I just got on with it and boredom led me to YouTube then Blogging. I admire those like Lauren Luke and Kandee Johnson as they were the first girls that really took off on the small screen. They have done so well for themselves and both with children in tow. Go on Girls!!
I hope that I can make my son proud of me and feel like I contributed towards the good things in life for him. I sometimes feel I'm in the shadow of my partner as he plays football professionally and has career that our son can get excited about when he's a little older Although he's not super famous or rich like these premiership players he still has that 'cool' job that makes me feel the need to achieve too.
Getting the column in FACEON magazine elevated me into a new place of happiness and gave me motivation to succeed and progress. My aim is to be happy and successful in my passion which is what I'm doing right now, oh and some print and runway make-up.
This post is way longer than what I thought in my head but I'm having a Carrie moment and just typing as though I'm actually talking to you which is weird.
Thank you for all your support so far and I hope you keep enjoying my work and spread the word to people you think might also like it so that I can reach my goal :)
I have a Bloglovin' button so if you love please give it a push.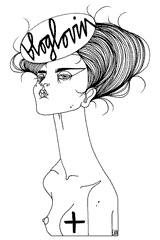 Thanks for taking the time to read this.
Peace, love and happiness xx